Quality is integral to our corporate culture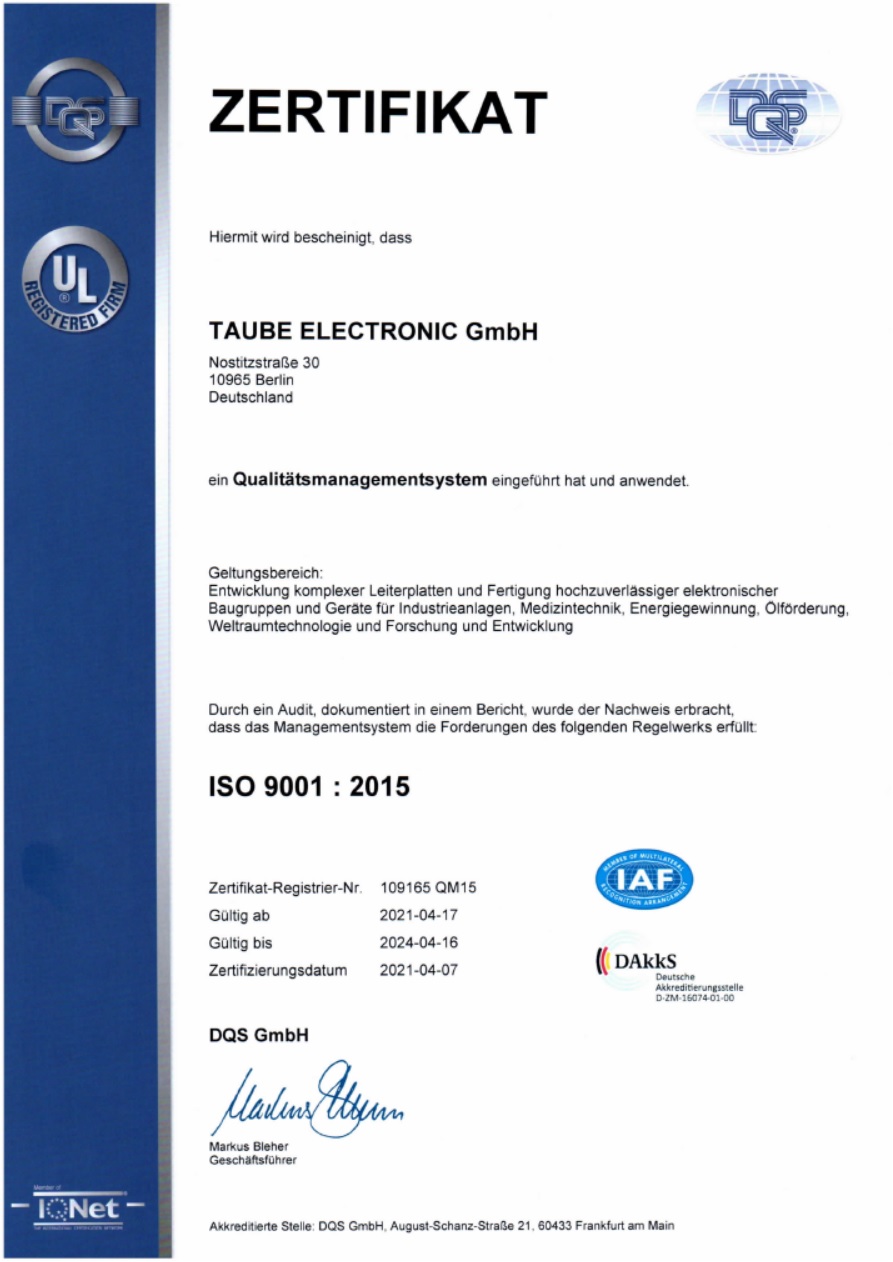 For all TAUBE ELECTRONIC staff members quality means the achievement of all customer demands to full satisfaction. As early as 1997 we successfully implemented a quality management system based on ISO9001 with the certification audit without any conditions.
Basis of our Quality Management System  (QMS) is a standardized quality control loop as consistent control tool for all activities and processes. Already in 1997 we implemented an electronic quality management handbook.
At TAUBE ELECTRONIC  the QM-rules are seamlessly and unbureaucraticly integrated into the daily work routine. The foundation of our daily work is our integrated data, document and quality management system, which we improve in a continous process and adapt to current requirements. A process driven organisational model together with process control, time recording and documentation are also included in our QM-process as a database-supported concept for error prevention.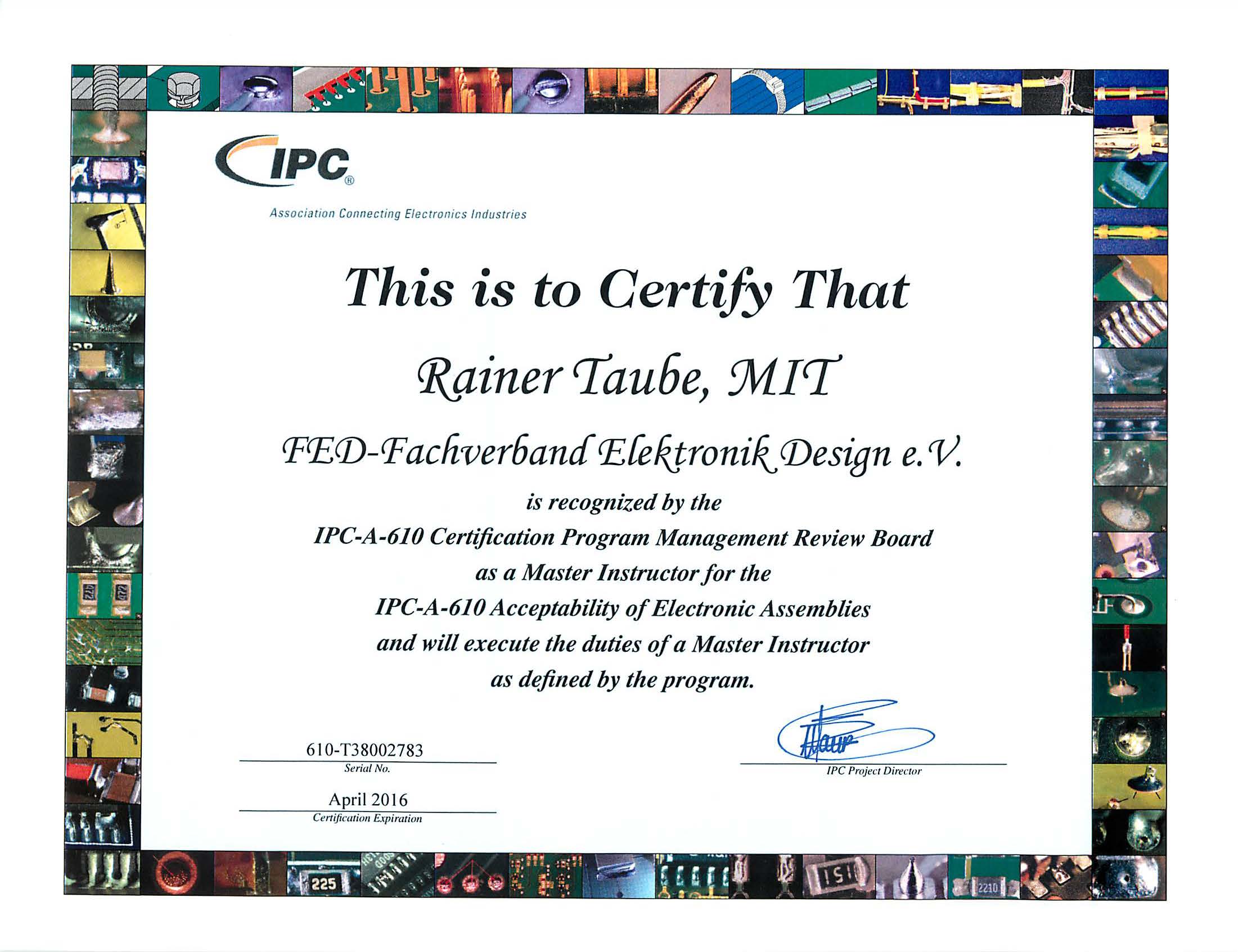 Certificate of Rainer Taube as IPC-A-610 Master Trainer, issued by IPC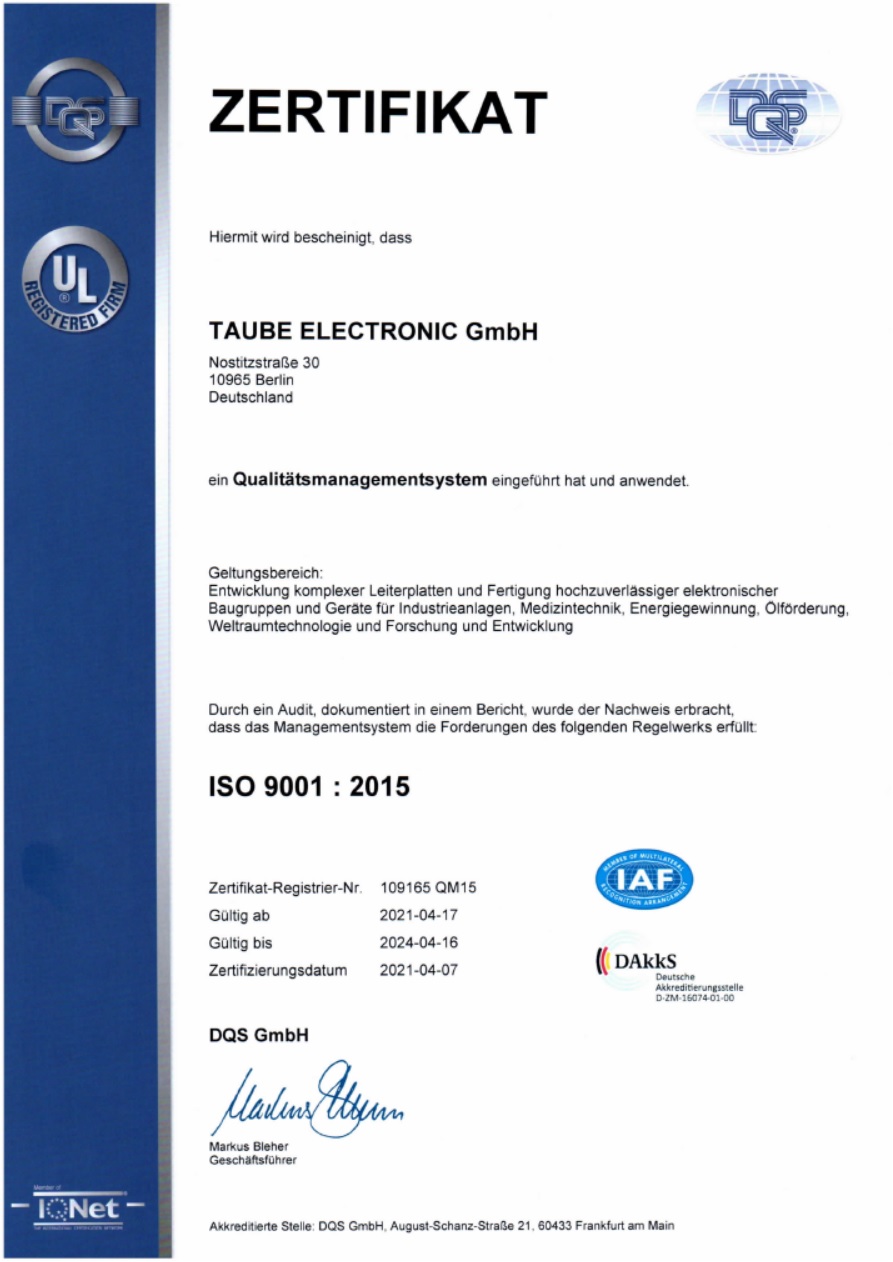 Current ISO 9001:2015 certificate of TAUBE ELECTRONIC, issued by DQS
We distinguish production jobs according to:
Leaded
Lead free
RoHS-conform
Green
Automated warnings support our staff at approvals and purchase orders. These warnings pop up automatically and they are automatically transferred into the documentation. Missing required checks block the system before a wrong decision is made. Here is a good example: For a project with BGAs the check of the solder ball alloy is mandatory.  Without a recognizable BGA solder alloy check the material is not approved for production. The BGA solder alloy approval generates automatically a reference for the appropriate solder alloy.
For all core processes a process owner is designated as contact person.
Continous training and qualification for all staff members
We continously train ourselves and our employees and work actively in various expert groups on the topics of PCB-design and PCB-assembly. These include:
Regular training of all employees with IPC-A-610 certification
Qualification of our PCB-designer by FED-designer qualification program – CID+/FED-designer certificate
Design for manufacturing (DFM) by additional IPC-A-610 training and certification of also our printed circuit board designer
Partizipation in FED-regional group meetings and FED-conferences, workshops and seminars

Active collaboration in the work of  FED/VdL-project group Design

Active collaboration in DKE682 and also IEC TC91 workgroups 2 & 12